That seminal moment in every teacher's career: planning and embarking on a field trip. Yes, I can call that one good.
Yesterday we went to the Burke Museum on the University of Washington campus. I was hoping my older son could join us, but he was studying for a Russian exam. (Hey, I'm glad he's a Russian+ major, but sure could have used some tour-guidyness.) The folks at the Burke, however, did a superlative job, and I highly recommend a visit there.
Of four students in peril of being left behind at the last minute, two paid their fees and found their way to my rosters. The count ended up at around 86 students and 12 chaperones. I took most of the kids who need a bit of extra supervision/guidance, with the help of my trusty co-educator, Jen. Admittedly, this is small potatoes compared to earlier this year the entire eighth grade class went to go see "He Named Me Malala" in tour busses and hefty Donor's Choose contributions. (I just think that's the coolest thing!)
Back in the day, I used to be responsible for major convention planning; everything to trade show exhibit activities (mostly for doctors), to social event planning. And in every event planning, no matter how many dotted i's, crossed t's, or boxes checked, unexpected things happen. Chalk it up to the human factor and that students are not robots. Anticipating most needs, I carefully crafted eleven packets, full of cell phone numbers and cross-checks, and honored my colleague who did not want to give her cell phone to parents. Completely understandable, but perhaps next time I'll anticipate timely check-points just in case. I put a cover sheet on all the packets to return them to me for shredding, which all of the parent chaperones did. However, I forgot about the lousy cell service in the HUB, and maps are always a good thing. In the words of the estimable Tolkien:
"It's a dangerous business, Frodo, going out your door. You step onto the road, and if you don't keep your feet, there's no knowing where you might be swept off to."
― J.R.R. Tolkien, The Lord of the Rings
Some feet weren't known. Some roads crossed in pedestrian crosswalks. And many doors were stepped out of. And lunch was definitely an issue. Liken 86 middle school kids to Hobbits who really need their tummies full. What?! No second breakfast!
The HUB, or Husky Union Building, is not a short walk from the Burke, especially if there's construction and it's not clear where it is. We kept being told "that way, yes, just down that way"  but 'that way' proved octopodian* in its meanderings. Each group of three had about 45 minutes of 'self select time,' which I told my colleagues could be used for lunch, and the staff at the Burke told everyone, too, but that message didn't get to all. If I could change one thing about the Burke it would be that there was more on-site eating or sitting facilities inside the building. It feels sketchy to take 12 and 13 year olds through the wilds of a college campus, with students dodging walkers, ear-budded, face-down in their screens, jockeying for position on moss-lined sidewalks: but then again, what happens are unexpected, unintended good consequences.
With every churning tummy, however, there is a silver lining: about two groups made their way to the HUB, and then trying to make their way back, engaged university students in a high-five contest to see how many college kids would high-five them back. The students felt thrilled that they could say 'they went to UW,' and seeing the campus thrilled them.
(Seriously 20-somethings: if you can't high-five a middle school kid you need to rethink your priorities.)
We ended up eating most of the lunches in my room around 1:30-ish, which is late for middle school kids used to eating at 11:30AM, and my husband met me in the parking lot with six bags of pretzels for snacks. We finished making our miniature fish-traps, which left my classroom full of raffia looking like a family of scarecrows came to an untimely and gruesome end.
For those of you veteran, nay, Generals in the Strategic Art of Field Trip Maneuvers and Excursions, my take-aways are going to seem amateurish. However, if I don't capture them, I'll forget, and the next thing you know I'll try to do another field trip and don't want to face palm myself into a migraine.
Ultimately, here's what I learned. Consider these my field notes:
Thank the chaperones: this weekend I'll be handwriting cards and buying Starbucks gift cards. It's all I can do for now, and belies how much I appreciate the good natured parents. Also, don't forget the bus drivers. The two bus drivers were wonderful.
Buddy-system for grown-ups: have a teacher friend along, too, to share the experience.
One of my colleagues is the Master of the Big Voice. I tried to 'yell' and as one of my students said, "Mrs. L, you're just not very good at it." I used to be though, dang..I used to be. But not sure why I was yelling in the first place. So, I'm not a yeller anymore. So more communication and information in students' hands, as well as perhaps a bullhorn, would be good for me.
Some people may grumble and dart-throw. That's the nature of any event planning. Nothing new, nothing to be done, and not a good use of energy to try to placate those personalities. The only question is to redirect and ask what they would do differently, or apologize if needs or expectations weren't met.
Kids will have a grand time if they get to socialize, get out, do something different. Nothing matches the eagerness of a middle school child: the paradox of displaying curiosity and risk taking combined with overwhelming desire to fit in–all of that synthesizes into a whole lot of fun.
They

will

follow the adults' leads: if the adult is happy and jumping in with flexibility and 'go with the flow' so shall they: if the adults frown and act like 'everything's stupid,' well so goes the way of the student, too.
College kids can be amazingly cool. If the event is connected with a University, find out ahead of time if university students can help in the teaching/guidance. Of course they need clearance ahead of time, but perhaps in terms of other modes of instruction. (Why not have anthropology majors Skype the classroom later?)
If and when there's a next time? Delegate more so the leaders have a stake in the outcomes. Do not accept shrugs or "I don't care's" from helpers. This can only lead to potential set-ups for criticism and perceived failure. Give students knowledge of their groups ahead of time, and designate accountability within their groups.
Tonight I'm sure I'll wake up in a nightmarish sweat and think "IS Z** STILL THERE? WHAT HAPPENED TO THE VEGGIE SACK LUNCH?" and then re-orient myself, calming down, reminding myself it's over, no one was left behind, everyone got fed, and all is well.
Now to face the last week before Winter Break. Pshaw, I got this.
Postscript:
The optional assignment I created is as follows:
"Look at all the objects at the Burke, and imagine one of them comes to life a-la Night at the Museum–what story does it tell?"
Think I might choose this totem: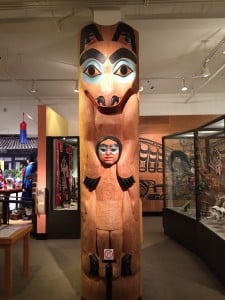 *I made this word up. It should be a word.