---
https://www.facebook.com/plugins/video.php?href=https%3A%2F%2Fwww.facebook.com%2Fviralthread%2Fvideos%2F824556247717060%2F&show_text=1&width=560
This was a post from TeenVogue on Facebook this morning.
Now: TeenVogue is amazing. Its editorial and content have been one of the few media sanctuaries for many of us, young and old, in these troubled times. The magazine tackles politics, social justice, and yes, fashion issues. Its holistic approach to youth and news is refreshing.
But dang, kids, really? Ageism? 
My 8th-grade students often comment on how fast I type and text. I learned the QWERTY method when I was a sophomore, in a room full of electric typewriters, staring at an overhead projector screen with our typing tasks for one full semester. Since keyboards and keyboard layouts remain in this configuration, I can still type pretty dang fast. My highest typing speed is around 75/80/WPM. They also marvel at how I can type and not look at the keyboard. I confess I do need to look at the cell phone's "keyboard" when I text, but I manage just fine.
My mother, in her 70s, has worked for technology companies from the beginning. My father, in hospital equipment sales. My husband is a self-taught programmer, UX designer, and technological pioneer: in fact, he and I both bristle at the term "digital natives" and want to bring in more use of 'digital pioneers.'
We've both noticed the subtle but constant ageism when it comes to technology: ultimately these fixed mindsets and assumptions about "old people" and what they don't know about technology becomes boring, and take away from creative pursuits. For the commenter who said "I literally had to show my mom where the right click button was" all you showed your mom was contempt, and now if she'd like to try some new things she'll think twice. Glad she didn't say that to you when you were learning how to ride a bike or brush your teeth. "I literally had to show her where to put the toothpaste!"
Sigh.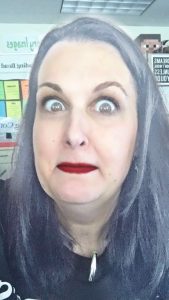 Look, I'm a huge defender of younger generations. I caution myself toward falling prey to Juvenoia,  and try to take risks with new ideas and learning. I don't want to be afraid to ask students to help me with Snapchat, (which I have, and they've created a monster, and now I use it in creative lessons), nor do I want them to be afraid to ask me how to type a five-page short story formatted for publication.
I'm working on the digital curriculum for next year, and it's kind of a big deal. We all can learn from one another: ultimately, we're trying to make connections and communicate. Rock, paper, scissors or keyboards, we're all doing the best we can.