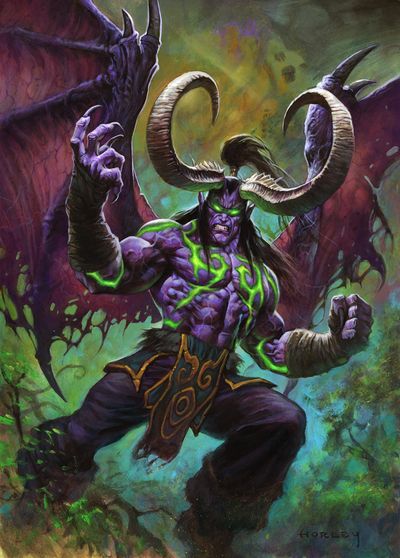 As my cutie-patootie fictional night-elf-turned-demon says, Illidan Stormrage says, YOU ARE NOT PREPARED! And if only I had listened to him when it came to ISTE. But, purpleman, I learned a lot, and had a blast. Now is the time to share the booty and swag I plundered.
Well, one word I heard over at ISTE that I adore is "medium agnostic," which I've been a fan of for a long time. It's one of those phrases that frames "I knew what I wanted but I didn't know the name of it" idea. That is good news that our district is turning more medium agnostic — the work is more important than who makes the tools. In that light, KQUE/Mindshift posted this article this morning:
15 Tech Tool Favorites from ISTE:
http://ww2.kqed.org/mindshift/2016/07/05/15-tech-tool-favorites-from-iste-2016/
Google is all over the place. We're not a "Google" district, but perhaps that'll shift.
There are great links in this article, like this Google App poster link.
I missed a lot of the convention, but traded it for spending time with friends I hadn't seen in years. I had hoped to meet up some folks from the district offices, but missed texts, etc. and it didn't work out. Hopefully I'll get a chance to share later this summer. I've put the invitation out there, so we'll see. We all manage our to-do lists and idea files differently. This blog is my way of trying to collect those ideas and 'let's try this' stuff. Need to start using my tags better. Put that on to-do list.
Some of my gems and confirmed tech love affairs:
Thinglink
I wish our district would get thinglink for staff and students. It's interactive: the process of putting one together is engaging and well, cool. I made a point to talk to the Thinglink rep. I tried to get the special 360 deal, but it was being weird. When I have time I'll write to the company to say I tried to order it with the ISTE code, but it was being buggy. Now that'll have to wait for next payday, too.
//cdn.thinglink.me/jse/embed.js
I want to get more involved in 360 stuff.
Kahoot
https://getkahoot.com/how-it-works
How cool that I saw Leslie Fisher speak at the Kahoot booth, and show us all new and fancy tricks?
Mackinvia
We were introduced to Mackinvia a few years ago by a former librarian, and it seems to have some new features. I am going to ask our new librarian about it.
Brainpop and Girls/Coding

Sigh. Okay. One thing. When I tweeted about 'both genders' (boy/girl) being discussed at the Coding/Girl Brainpop information, a Twitterbot informed me that perhaps I meant "all genders." I appreciated the information, to be sure, and it forced to me to think. However, the information presented was binary: boy v girl. And then this was reported this morning:
The Keynote Speakers
Michio Kaku: Overall, it was pretty good. I think he's great. Some of the information was a bit outdated for this audience, though.
Ruha Benjamin. I don't know why I missed her talk, but was greatly disappointed.
Michelle Cordy: I missed her keynote address because I was too busy eating breakfast burritos at a restaurant with my friend. Although the burritos were delicious, wish I could have been two places at once.
Hacking The Classroom with Michelle Cordy, aka, "Teacher on an Urgent Quest" from Connected Learning Alliance on Vimeo.
How To Sit at a Table By Yourself, Introvert Edition
Two ladies spilled a coke before I sat down.
This…really.
I have been playing with Twittercasting, but am not sure I love it. This 'real time' live feed video stuff is scary.  I could see its application, or ones like it, being used for weekly communication between students and parents. No more "I don't have any homework." I don't give much homework, but usually a continuation of a project that doesn't require WiFi/internet. When parents ask if their child has homework, the answer is a dodgy no. No more. A quick live-feed cast would have the students sharing with parents what they did that week. Along with Remind, communicating with busy parents may be a lot easier. The goal is to have students take ownership and use metacognition.
I bought a book
Digital Citizenship in Schools, Third Edition, by Mike Ribble. Time for some reading and making.
Other awesomeness:
I tried to meet up with Shelly Sanchez, too, an important part of my #pln, but alas, two ships and all that.
7 Factors Educators Should Consider When Choosing Digital Tools for Underserved Students? https://t.co/UL0YSqtTDM #edchat #edtech

— Shelly Sanchez (@ShellTerrell) July 5, 2016
//platform.twitter.com/widgets.js
And met the amazing Pernille Ripp!
Would I go to ISTE again? I'm not sure. Yearly membership is over $300, registering for the conference close to $400, and the airfare, etc. around $450. Am I glad I went? Sure! Next year's is in San Antonio, and that's close to my folks! So yes, maybe I will. I'll certainly be more prepared, and curate with greater efficiency what booths I want to go to, presentations, and who on my PLN list I want to see. One lingering question I have is how did those educators get to the other side of the podiums? How do I better serve my students who are creating amazing things and show what they know? Maybe some of these apps and tools will support their thinking. Besides, it is my job to prepare them, night elf demons notwithstanding.