No lie: just spent 15 minutes trying to find an article I read about annotating that was so perfect, so clear and meaningful surely I bookmarked it, saved it, so it could be easily digitally retrieved upon demand. Nope. Can't find it. My digital life is too messy, too cluttered to find anything easily. So, I'll cut my losses and just post what I did find.
But this isn't about my messiness; it's about annotating as a means to curation. What are some tools to promote annotating media in order to create mentorship, ownership, and reach the ultimate rung on the taxonomy scale: creativity?
OH MY GOSH I FOUND IT! (See? If I just hung out in my bathrobe and drank cold coffee long enough, I knew I could conjure information!)
Documenting Learning https://usergeneratededucation.wordpress.com/2016/04/08/documenting-learning/
Digital Annotations:
Software folks are coming out with ways to annotate on-line. I've found two:
Genius: http://genius.com
Genius can be a little….dodgy. It combines a social media context as well as pure annotations. Not for the faint of heart.
Scrible:
Scrible is in beta, and so far I think it's great.
Obviously, Google has options, but until I can figure out how to share things and not have YoloSwag69 make a mess out of shared documents, I've shied away from those.
Here's a Prezi I put together a few months ago. It could use an update.
https://prezi.com/embed/cjyazjyaasbe/?bgcolor=ffffff&lock_to_path=0&autoplay=0&autohide_ctrls=0&landing_data=bHVZZmNaNDBIWnNjdEVENDRhZDFNZGNIUE43MHdLNWpsdFJLb2ZHanI5ejdzbmNMY0NiNHhhMk9vUEVtMVFVd053PT0&landing_sign=1FCegdPpqowuIvULuroaoGgsbbeLFNqrAU6JnWNC4Ac
In the classroom: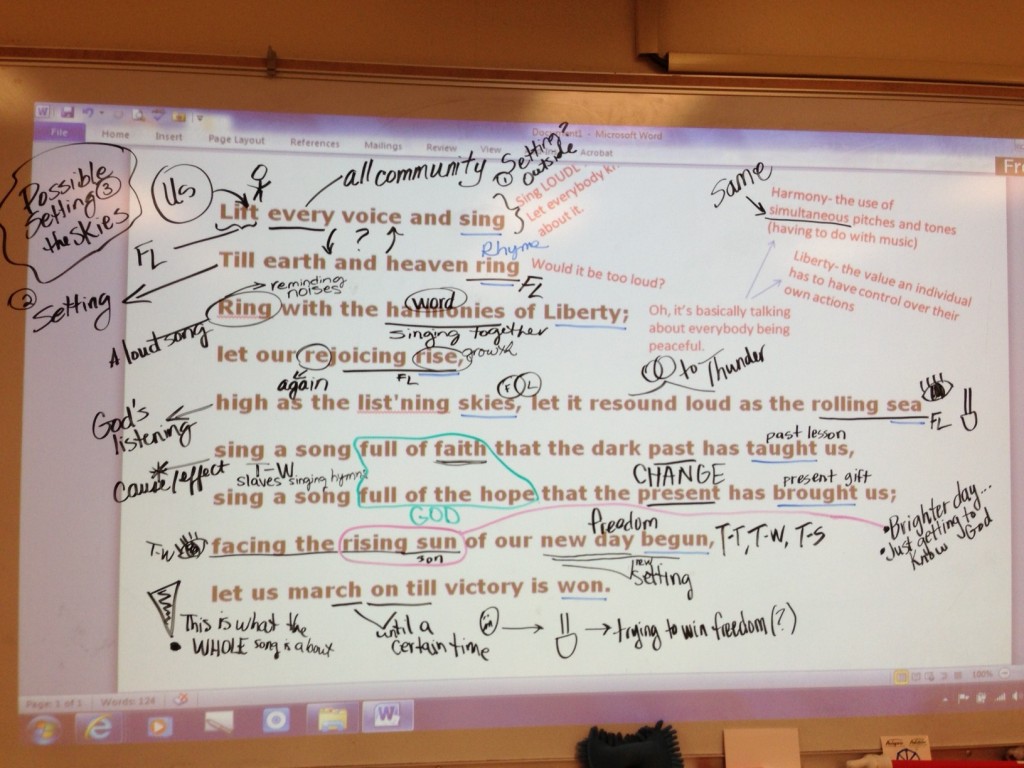 Showing thinking and participating together is always fun. (And I am envious of this teacher's amazing board handwriting…!)
Apps
These are some I am going to test soon:
Orion Markup: https://itunes.apple.com/us/app/orion-markup-image-notes-annotations/id1014671845?mt=12
Annotations: https://itunes.apple.com/us/app/annotations/id885557228?mt=12
Deskscribble: https://itunes.apple.com/us/app/deskscribble/id422170726?mt=12
There are many, too many to list, in terms of screencasts, annotations on screen, capturing, photography and text mash-ups, but I will always love WordSwag and Skitch:
This article has a comprehensive list of How Annotation Reshapes Student Reading. Read it, print it out, turn it into a rubric/student reflection sheet. As always, ThreeTeachersTalk provide great information.provide great information.
Postscript: Been doing some research on apps that read aloud, or will help some of my struggling readers. If it's tough to read, it's tough to annotate.
Read4Me
https://itunes.apple.com/us/app/read4me/id402454684?mt=12
VoiceDream
FreeSpeech
https://itunes.apple.com/us/app/freespeech-build-language/id1089150955?mt=12
And random acts of creativity:
http://www.abandonedamerica.us
http://www.buzzfeed.com/danieldalton/urban-exploration-photography#.fwZe8NDzo
http://www.huffingtonpost.com/entry/abandoned-places_us_55e76c3ae4b0c818f61a89eb
http://mentalfloss.com/article/65567/26-breathtaking-pictures-abandoned-and-forgotten-places